Dalla'attento link between the company's products and changing economic / competitive in today farms have to operate, in recent years the Grassenio farm has initiated an innovative project as thorough product diversification that has as common denominator of the prickly pear of San Cono and its countless organoleptic properties.
From the pressing of carefully selected fruits for size, variety and degree of ripeness we have now succeeded in obtaining a unique concentrated product of its kind for taste and color and the many application fields: from the creation of juices to that of typical products Sicilian, through its use in a laborious process of obtaining alcoholic beverages and fruit-based drinks, the juice Ficodindia assumes today a crucial role in the expansion strategy of product / market portfolio company that has as its basic objective the maintaining the position of leader in the production, processing and marketing of prickly pear of San Cono and its derivatives.
DESCRIPTION OF THE PRODUCTION PROCESS
The process, conducted entirely in the company's premises, consists of a series of activities aimed at making ready to distribute the product obtained by the transformation of the raw material (the prickly pears).
The flow chart below shows the various phases that characterize the entire process of processing the fruits.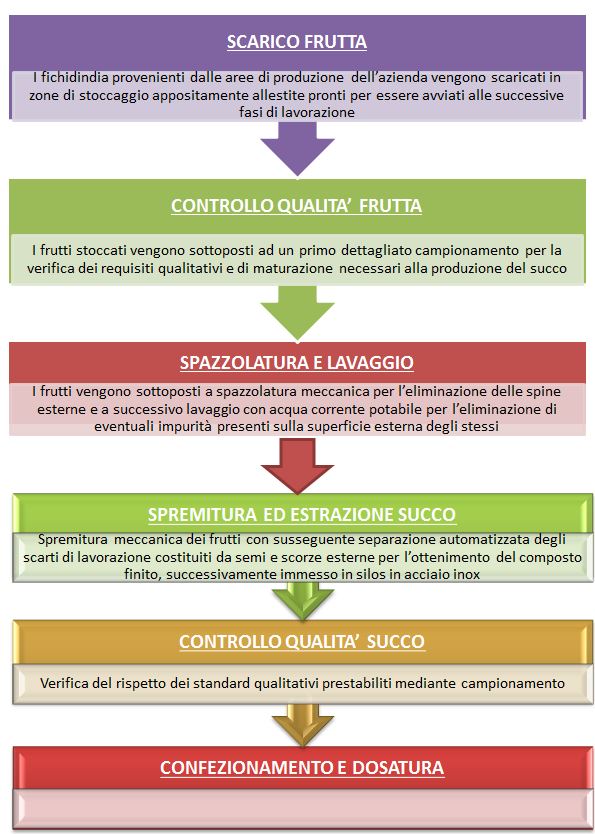 EXHAUST FRUIT
The prickly pear from the production areas of the company are downloaded in storage areas specially furnished ready to be launched to the subsequent processing stages
QUALITY CONTROL 'FRUITS
The fruits stored are subjected to a first detailed sampling for verification of the quality requirements and maturation necessary for the production of juice BRUSHING AND WASHING
The fruits are subjected to mechanical brushing for the elimination of the external pins and to subsequent washing with running drinking water for the elimination of any impurities present on the outer surface of the same
PRESSING AND EXTRACTION JUICE
mechanical pressing of the fruit with subsequent automated separation of processing waste include seeds and peel external to the obtaining of the compound finished, subsequently placed on the stainless steel silos
QUALITY CONTROL 'JUICE
Verification of compliance with pre-established quality standards by sampling
PACKAGING AND DOSAGE
The juice appropriately dosed is put into containers for storage of food and stored according to the most precise and careful rules safeguard sanitation and microbiological conditions prevailing in the area. In the present case, the juice is frozen in a coupled film that prevents contact between the product and the different types of containers in which it is packaged. It is distinguished in particular:
– Kg drums. 200
– Dried Food For lt. 30
– Dried Food For lt. 20
– Dried Food For lt. 10